Let's start off October with some silly stuff ... Little things that might make you grin.



When you need to actually send something via snail mail, here's a really cute postage stamp that should bring a smile to your face- and that of whoever receives your card or letter. This Humorous Blueberries Postage is by a very talented professional cartoonist and gag writer who works under the name of Swisstoons. You can find more of his work on Zazzle. This guy has some funny stuff- you should give it a look. And yes- this is REAL postage, available in various sizes and denominations.





So, if Nero fiddled while Rome burned, what do you suppose would be happening while a Poodle played a tune on a violin? I guess that's for you to decide if you fall in love with this little
Vintage White Spaghetti Poodle Mini Figurine Playing Violin. Now, isn't he just the cutest? And he's only three and a half inches high, from Katzzs Kloset.
With election time almost here, every body's thinking about who they want to send to the house or senate from their state, or maybe to the governor's mansion. But, what if you could elect your First Lady? Who would you vote for?
If it would be Miss Piggy, then here's your campaign button: It's a
Miss Piggy for First Lady Pin
, and it's one of
Vinewood's Treasures
.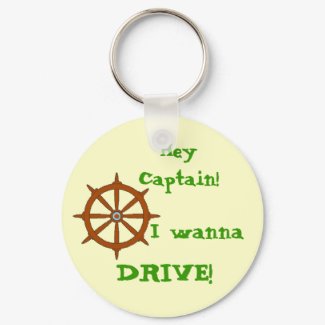 How about a silly little key chain for cruisers or sailors?
"Hey Captain! I wanna DRIVE!" keychain
features a drawing of a ship's wheel... ... The key chain is available at
CruiseReady on Zazzle
, along with a selection of companion products.
For landlubbers who don't quite get the joke - most ships are guided by joysticks, not wheels these days. And the captain doesn't "drive" the ship - he "steers" her.