More Little Things! This time, it's all kinds of pinback buttons. No matter what kind of a button you want, chances are yyou can find it on Zazzle. The artists there seem to have every angle covered. Some of them, like the
Black and White Palm Tree Yin Yang
by
LoraSeverson
, manage to say something without a single word. Others celebrate a specail moment or accomplishment, like the one
MaryRussell
made showing the cover of her newly published book,
Flickertail and Paint, Barnyard Sleuths
.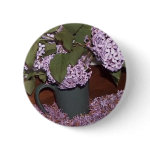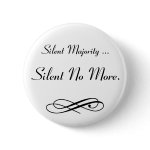 Some have pretty posies on them,
and some are pretty political.
Special events, days, or times are commemorated by still other buttons from the artists of Zazzle.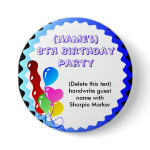 Having a party for someone's birthday? How about some personalized
Name Pin Button Birthday Party favor
with the honoree's name printed on them, and a space to write on the guest's name with a sharpie? You can get those - as well as the ones for kids with the age featured - at
KJsInvitations
.
Going on a Cruise? Make getting aquainted with your shipmates just a little easier by wearing a personalized Cruise name pin from
CruiseReady on Zazzle
. There, you'll find numerous designs to choose from, including the
AHOY Personalized Name Badge
shown at right, that comes in both round and square shapes.
And, if you can't find something that is just right for what you may have in mind, iust remember, that at Zazzle, you always have the option to
MAKE YOUR OWN
.