Today, we give you

Shirts for ones who crawl,
For the Ladies a shawl,
And a green doggie paw.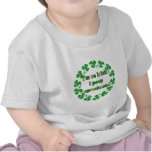 10- I'm so irish, I poop leprechauns" Toddler t-shirts - These are by KJsCreations, and they are produced by Zazzle... where there's still time to order and receive them by March 17, but you need to hurry - Do it this weekend! KJs Creations




11 -


Vintage Green shawl with Blue Scarf
Vintage 70's Hand knotted or hand loomed green with blue scarf - never used vintage item from an estate sale.Made from a very soft yarn in an "X" design.It is about 64 inches long (plus a 4 inch fringe) and about 18 inches wide.

At Organic Gifts by Diana








12 - SET of 2 Luxury Ceramic Dog Bowls / Dishes

Set of TWO ceramic dog bowls. You may chose two paws or two faucets or mix one of each. Available in 6" Diameter, 9" Diameter, and 11" diameter sizes. Designs by Rebecca Voladnt. Get your pups name put on the outside of the bowl or your favorite vacation spot or "his" and "hers" sets. Diswasher safe, lead free ceramic glaze. At Your Pet Store with More





* This month, Gift Listings is having a little fun. With a nod to the Irish, we're showcasing green offerings from around the net. Check back throughout the month to see what we're finding for you!